Home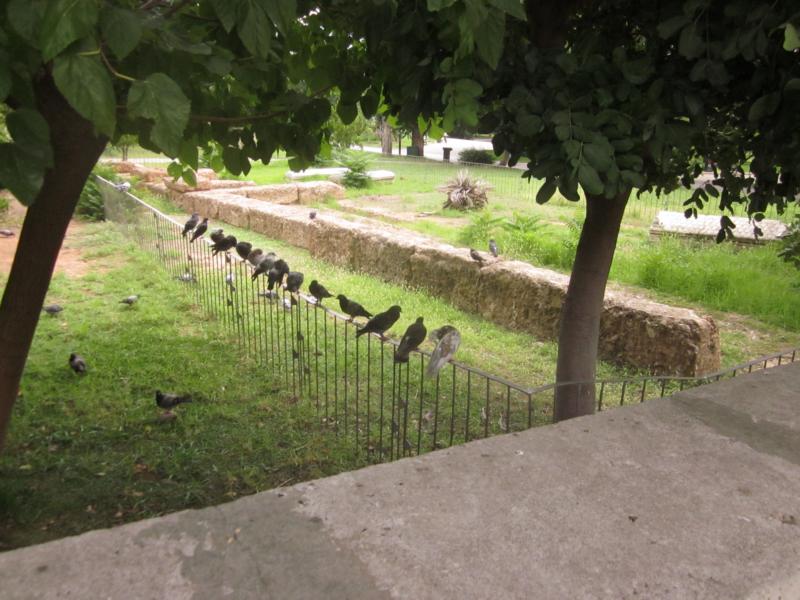 In the school of Aristotle                                               @HF Athens 2014
Amir Or brought together poets of the Arabic and Hebrew language in his poetry centre in Israel, so that they would translate each others' poems. To do so, everyone had to slip a bit, so Amir Or, into the role of the others, in order to understand what the other was saying in his or her language. The small seed of mutual understanding can be called the beginning of a 'delicate dialog with reality'. That is needed if the Barbarians are not only coming, but already amongst us, and therefore being 'together' takes on quite another meaning.
Likewise Israel can be perceived as a strange kind of normality as shown in the documentary film by Mieke Bal. The film shows people going to the beach, while not very far away Iraeli soldiers don't know what to do when they are posted in Hebron. Send there to protect the 800 settlers against the thousands of Palestinians confined to barricaded houses, in reality cages, they are confronted by another reality. For the Palestinians are much more subject of abuse by the settlers rather than the other way around. It leaves the soldiers so bewildered that they do not know what to do. Reluctant to intervene against settlers when they act against the Palestinians, it underlines a special kind of injustice happening all the time, and not only when the world media focuses on Gaza having come once again under attack as was the case in July 2014.   
Editorial
About the Future European Commission under Juncker
The appointments to the various Commissions by Juncker is an indication of things to come but also what one can expect of a highly politicized Commission. After all, the appointments of the new Commissioners are not only at the disgression of Juncker, but are subject to influences of the member states, political parties in the European Parliament and powerful forces within the European Union. In the end, it boils down to political appointments with the need to please so many divergent interests that it may well be impossible to ask for more than what the sad state of affairs in Europe can offer at the moment.
Some appointments are highly controversial for many reasons. Some of them became evident during the hearings in the respective committees of the European Parliament for nominees. For deep trouble lies ahead when the wrong persons are appointed for Commissions which touch upon highly sensitive issues such as digital matters, economy, energy and foreign policy. Moreover the main press does not even pick up other crucial policy areas such as migration and culture. Of interest for the press is who of the nominees have been asked to improve upon the initial answers given in written form. For example, Jonathan Hill, who was nominated by Cameron in the UK to oversee financial markets, apparently did not outline his policies clearly enough to satisfy some MEPs during his hearing last week. He was expected that he will have to face a shorter, second round of questioning, probably on Tuesday, Oct. 7th. However, it is expected that he will get through since no one wishes to cause an affront with the UK already deeply sceptical about the EU. Also Pierre Moscovici of France and Miguel Arias Cañete of Spain have been asked to upgrade their responses.
Another controversial reason was linked to Former Slovenian Prime Minister Alenka Bratusek because she had appointed herself, despite having lost the election and therefore should have given the incoming government a chance to make its appointment. However, she has withdrawn from being considered to be a member of the next European Commission, said Sven Giegold, a member of the parliament's Greens group,in a posting on Twitter. Bratusek had been nominated to coordinate energy policies in the new commission. It puts Juncker into a real bind to come up with some forward looking solutions.
It has to be noted that the full Parliament has to vote on all 27 nominees; that is, it cannot reject a single nominee while accepting the rest. It is either the full slate or nothing at all. Although it puts Parliament and its political parties close to such a coercive level, so that the only sensible outcome shall be a compromise, this time things are not going the way was wished for. Juncker has now to reshuffle some appointments and make new ones, in order to avoid a full out catastrophe. Parliament may vote as early as on Oct. 22 on the full cabinet.
In view of the appointments made by Juncker so far, some further questions need to be asked. One of them has to be surely if this Commission has really the substance to fulfil what it is supposed to do, namely to steer the European Union out of a financial crisis and free it from a lack of moral legitamacy? The latter has become highly doubtful ever since the EU constitutional treaty had not been ratified in 2005. Added to this the financial crisis has only intensified inequalities. While the prime goal of socio-economic cohesion has been neglected, the inequality between regions has been aggravated by various forms of regional assertiveness gaining more and more ground. At the same time, European values especially with regards to equal Rights for all citizens have been handled in a way which is hardly convincing to the majority of European voters.
Likewise it does not appear that the new Commission shall end the reign of neo-liberal austerity policies but rather reinforce even more so this highly controversial way of resolving the crisis. By making the 'economic value' into the single factor which supposed to drive everything else, the EU Commission is more than just misguided. That is not only a fake accountability, but does no justice to a culture of diversity. The latter is best expressed by people embracing a variety of values, and not just a single i.e. economic one. Business organisations have long caught onto this but politicians still believe the proof of reality lies in gaining success over the economic value alone. That leads to a neglect of everything else exemplified on how culture is neglected by the EU despite using the European Capital of Culture as a kind of prime example of a successful project.
Changes in EU policy are too often just extreme cases: either nothing happens or the measures are too drastic. It is rare to find a governance based on 'practical wisdom' and which would allow people themselves to be the prime agents of change.
No doubt the EU faces in the 21st century numerous and challenging factors due to a world slithering along war. The risks of vulnerable areas being transformed into a proxy war-zone like airports has increased. Also many regions in the world are nearly out of control due to ever more violent conflicts as if humanity has forgotten to resolve things by talking to each other. Libya can be cited here as one of the latest examples of failures with Western intervention having made things worse, not better. 
At the same time, economic hardships rob especially future generations of any dream. For instance, the younger generation in Greece is either lost or else sees ahead but two alternatives, namely suicide or immigration to another country, may that be Germany, England or Holland.
The very lack of perspective indicates how a heavy handed style of governance is slowly grinding down everything. By having adopted such crude measures, more and more social injustices are inflicted upon the weak i.e. those depending on a decent salary or pension. Too much has been inflicted upon that special segment of society, that no one should wonder when anti-European forces gain ground. Politically speaking, this manifests itself in the Far Right in France or in the AfD (Alternative für Deutschland) in Germany. Quite often this popular opposition against Europe is linked to business interests who wish simply to advance by having the Commission impose as few constraints as possible. Here the European Commission must uphold standards set, for example, to protect the environment. Likewise the EU Commission should be much more open to dissenting voices, for often those who are critical of how European affairs are being handled, they still the most firmly committed to the European Union.
The Scottish vote needs here a special interpretation. It is linked to what is happening in Catalonia or what force seems to gain ground in the United Kingdom. Their weakness results, however, out of being a single issue orientated movement since based only on an anti Europe sentiment. Most of the time, they want just to exploit a tendency towards 'self assertiveness', as if this is the answer of 'self determination' in the 21st century. It masks in its own way a helplessness, but also neglect to come to terms with globalization. Due to a strong dose of anti-Politics, these movements have lost already the prospect of coming to terms with political structures needed for world governance and international law to prevail. Issues like climate change have to be dealt with at that level, but also air traffic control for otherwise civilian planes are downed like that fateful Malaysian plane over Eastern Ukraine on July 17th 2014. People need above all human solidarity and consistency, so that they do not give up but work through all the contradictions between vision and reality. Only then are some lasting agreements possible.
But to come back to the European Commission and the appointments themselves, there has been designated, for example, Tibor Navracsics from Hungary to become the new Commissioner for Culture, Education, Youth, Media and Sports. Helga Trüpel, MEP for the Greens in the European Parliament, states why there is serious doubt about his appointment. He was as Minister for Justice in Hungary responsible for limiting the freedom of the media. It perplexes people that Juncker has named him even though culture and education are amongst the most sensitive portfolios. However, Peter Inkei from the Budapest Observatory draws a positive conclusion and endorses him in the following way: 
"It was a brave pull from Jean-Claude Juncker to offer this portfolio to a politician who has been a chief architect of a regime that favours uniformity and breeds discord. Nevertheless Tibor Navracsics has managed to keep certain integrity, has refrained from saying or directly doing things that would irritate believers in democratic plurality, fairness, tolerance and other values of the EU. The post of commissioner for culture etc. offers good chances for compensation. Navracsics has the abilities and maybe the determination to do so." (Source: Budapest Memo, September 2014: http://www.budobs.org)
To be on the safe side when making bets about future outcomes is not a bad option, but it reveals the absence of a real critical mass of voices in the cultural sector. Still, the Cultural Committee ended up voting against Tibor Navracsics 14 to 12, so that Juncker faces already the need to reshuffle his proposals for the Cabinet if he wishes to get all through at the next all Parliamentary vote.
If reference is made to those making up the cultural sector at European level, there is Culture Action Europe which wishes to go beyond the obvious at its upcoming conference in Newcastle, UK. Yet there is the famous saying by Hegel most often real knowledge is being overlooked because it is so obvious to everyone that no one thinks it is worthwhile to give it much attention. To that can always be added the thought of Adorno that in cultural terms the only thing which can be considered to be self-understood, and therefore be shared with everyone, is that nothing is self-understood.
Hatto Fischer
Athens 7.10.2014



Current ECoCs


Riga 2014

"Culture is that undeniable and irresistible force, which is able to direct changes into a positive stream, turning fear into a challenge and a venturous joy, and uncertainty – into trust in the creative spirit." - key slogan of Riga for that decisive year.

For official information: http://riga2014.org/en/

Umeå 2014

Official website: http://www.umea2014.se/inenglish

Umea will also host the next conference of the University Network come October 2014.

Europe connected through the arts and cultures

When thinking about how Europe is connected through culture, it became a practical question as to what contributions European Capitals of Culture have made so far to bringing about a 'cultural synthesis' capable of energizing artists to do outstanding works of art. To trace possible links and follow-ups between past, present and future ECoCs, there has been started a research project to examine the various linkages within given and still better to be formulate categories of the arts. See archive of European Capitals of Culture 

http://ecoc.poieinkaiprattein.org/european-capital-of-culture/

 

Future ECoCs

Pilsen 2015  and Mons 2015

San Sebastian 2016 and Wroclaw 2016


Valletta and Leeuwarden preparing for 2018

 

In Holland, Leeuwarden 2018

Candidate cities in Italy and Bulgaria for 2019

In Italy there were 21 cities competing for the title for 2019. Five, including Ravenna, made it on the short list. A decision is expected for autumn 2014. In the past, Florenz has been in 1986 and Bologna in 2000 European Capitals of Culture.

Likewise one city in Bulgaria shall receive the designation of the ECoC title.

For 2020 Ireland and Croatia are fore seen

Greece –selection of the next ECoC for 2021

After the Municipal elections were held on May 25th 2014, it is expected that clarity will soon prevail as to which cities are going to declare their candidancy. Besides Pireaeus and Syros, it is said that Nafplion, Kalamata and Tripoli form potentially one unit. Also Iraklion in Crete has been contemplating. Unsure is still Rhodes.

Rumanian city in 2021


How candidate cities learn out of previous experiences made by other ECoC cities, this can be studied onhand of what these cities identify as factors which have contributed to making this project into a success stories. Largely the cultural impact is described in non cultural terms, see

Poetry

 

              

Daniel reading poem 'Dad' by Philip Meersman

On 7th of September, there took place for the second time in Marsaxlook a Poetry evening, this time to the theme of 'In Search for Peace'. Coming in the wake of a debate amongst poets about the word 'genocide' used by the World Poetry Movement when make a political statement about what was happening in Gaza, it was a poetic to what was happening in Eastern Ukraine with war being brought "home, into our houses" (Boudewijn Payens). Clearly the poets expressed their thoughts and doubts if they could change such a world constantly at war. It turned out that most crucial was no poet wanted to become a clown in a world in which the word 'peace' seems to have no substantial meaning. Changes are brought about by beliefing in the abilities of poets and artists to make a substantial difference when contributing to a serious peace effort. Humanity has not only become tired of war,  but more so the moods have darkened to a point which goes far beyond resignation. There is the failure of Libya, while in Egypt a new form of dictatorship has manifested itself again despite the Arab spring. And then there is the threat by the Islamic State fighters who believe they can behead people, if they do not go conform to their dicatorship of belief. In the wake of all of this, it makes no longer sense to speak about 'nomads' when there are so many refugees. There are many voices which were heard that evening since every poet was read by someone from the audience, so that a kind of match making between poet and reader came about.

Philosophy




Schriften aus der Zeit in Heidelberg (1972-75) und Berlin (1977-87) / philosophical writings out of the period in Heidelberg (1972-75) and Berlin (1977-87)


Philosophische Grundlagen (Heidelberg 1972 - 75)
There is a need to return to earlier writings, that is when studying classical philosophy in Heidelberg, and proposing to the professors at Heidelberg Seminar for Philosophy a dissertation topic with following theme:

Die Innere Reflexion des sozialen Seienden / The Inner Reflections of the social being

It did not come about, and therefore the journey continued in Berlin for the PhD there.

Slowly catching up but to do so time bridges to the past have to be crossed, and that can prove to be quite a shaky undertaking. For once nostalgia overtakes one, the balance seems to be nearly lost. Naturally this pertains to the writers and philosophers of the 20th century who had to journey through two world wars, or even some of them ended their journies like Walter Benjamin about whom Martin Jay gave a lecture in Athens 1992. He returned to Greece in 2006 when attending a conference in Iraklion / Crete with also Noam Chomsky present, and who had just before that been in Lebanon, that is before the Israeli war against mainly Hezebollah broke out, and which gave later on the motive for the Kids' Guernica - Guernica Youth mural in Tripoli, Lebanon with the telling title: "Enough! We want to live."

A most crucial topic has always been around 1985-87 but already before the topic Ernst Bloch addressed with 'slave language', and which Gerhard Zwerenz would say made the philosopher more than just anxious as he had been a victim himself thereof while still teaching philosophy in Leipzig, that is under the regime of the former East Germany. That effort to come to terms with a past still present was recently observed when Germany celebrated its 'Day of Unity', but the debate still raged on as to what was the former East German state.

Ernst Bloch und die Sklavensprache (Berlin 1985)/ Slave language (Cornell U. 1987)

Kids' Guernica - Guernica Youth


Following the review by the DAVID Review Project, Kids' Guernica - Guernica Youth has been awarded the

          



In Tripoli, Lebanon youth along with three children painted a mural with the significant title: To remember we need to forget. The mural was painted in commeration of the bombings of two mosques in Tripoli 2013. They developed a very rich symbolic language out of a strong longing for peace.

Kids' Guernica - Guernica Youth action started in the local community of Zabbar / Malta 2014 under the guidance of Gertrude Spiteri and Paul Dalli together with Hatto Fischer on Sept. 2nd. It contoinued Sept. 28th and Oct. 5th 2014.


Gerold Schuman in Ecouen will initiate a new action in "parc naturel duVexin" in France come November/December 2014, with an exhibition planned after March/April 2015 when the murals in commeration of the First World War have been painted. 
 


Traces of Grotowski in modern Theatre 


    Grotowski and Wroclaw 2016

The Polish theatre director went through various phases and in the end he turned more to research. Mario Frendo think he did this to escape the demands of the Polish regime at that time to produce theatre plays as if at an industrial production line. However, research is dipping into an ongoing learning process. It took him to India and Haiti since he became interested in rituals as another form of mediation between actor and audience.    

In Athens: 

Theater Workshop " The Power of the Actor: body, voice, speech"16 -20 October 2014, in Athens. Conductor is Ryszard Nieoczym former collaborator of J. Grotowski.   

 «Η Δύναμη του Ηθοποιού» σώμα, φωνή, θεατρικόςλόγος, εισηγητής: RyszardNieoczym

«Ο πρώτος στόχος της προετοιμασίας στο θέατρο είναι να αναζωπυρώσειτη φωτιάστηνψυχήτου καλλιτέχνη» R. Nieoczym  η ομάδα θεατρικής έρευνας MadDam διοργανώνει τον  Οκτώβρη στην Αθήνα το σεμινάριο

Δηλώσεις συμμετοχής στο 6933321531 και 6932583634

Email : annagriv@hotmail.com καιmyrto.bernhardt@yahoo.gr

Faceboook: Maddam Theatergroup

In Malta:       

Dr Mario Frendo PhD (Sussex) Lecturer at Theatre Studies Department, School of Performing Arts of University of Malta, 
has written about Grotowski having been influenced by Nietzsche as to adopting a musical perspective, including the voice of the actor, to go beyond the text and a strict philological interpretation thereof. See http://www.um.edu.mt/performingarts/theatre/staff#Mario http://www.icaruspublishing.com
Conferences 2014 / 2015

September 4 - 5 International Conference on Cultural Relations in the Mediterranean in Valletta, Malta organized by V18 with Valletta the European Capital of Culture in 2018

September 9 - 12 "Museums and Politics" in St. Petersburg: http://www.museodata.com/noticias/convocatorias/2416-call-for-papers-museums-and-politics.html

September 9 - 12 takes place first in Hildesheim, and then continues Sept. 12 - 13 in Berlin, the 8th International Conference on Cultural Policy Research http://iccpr2014.de/welcome/ 

Oct 9 - 10 in Newcastle CULTURE ACTION EUROPE is organizing a conference to go 
 "Beyond the Obvious: from producing things to nurturing social capital"

2015
What's next? Museum conference
http://www.museumnext.com/museum-conference-call-papers/
Publications by POIEIN KAI PRATTEIN

 
Catalogue "Imperishable Water", 2012 with Haroula Hadjinicilou, Anna Arvanitaki, Hatto Fischer (ed.), Athens ISBN 978-618-80160-0-2  
Hatto Fischer: The poem 'Destiny still flows' by Katerina Anghelaki Rooke - this concerns a discussion of the poem which inspired the action on Rhodes last year
 "Nation and Identity" by Kreisau-Initiative, with introduction by Hatto Fischer is crucial for answering the question whether or not Patriotism is an alternative to Nationalism. Youth met first in Kreisau, Poland and were inspired by this example set by the Kreisau Circle which went into resistance against Hitler on the basis of a non discriminatory approach for the day after Hitler fell.
Article by Anna Arvanitaki and Haroula Hadjinicolaou, "Action on Rhodes" in Journal "Nissides" (small islands). Rhodos, Vol. 9, 2012 

Poiein kai Prattein is member of the Mediterranean Directory organized by the 
                                    

René Seydoux Foundation


http://www.fondation-seydoux.org/repertoire_presentation.htm


Mediterranean Directory




Cultural Calendar for 2014

September 21 International Peace Day
9.10 BETON Gallery, Athens: a panel discussion with Roger Trapeano, chairman of the European Network Les Recontres, about European networking and the cultural sector, the situation of artists in Greece due to the crisis, and the concept of European Capital of Cultures with Greece and Rumanian selecting respectively one city for 2021.
Oct. / Nov. The play  Lost in Colours - Theatre Topos Allou premiered on 12th of October 2014. The play is open to the public and in Greek language. It starts every Sunday at 15.30 at Topos Allou except on Nov. 2nd (when they are playing at the Mall).
| Sitemap »
---